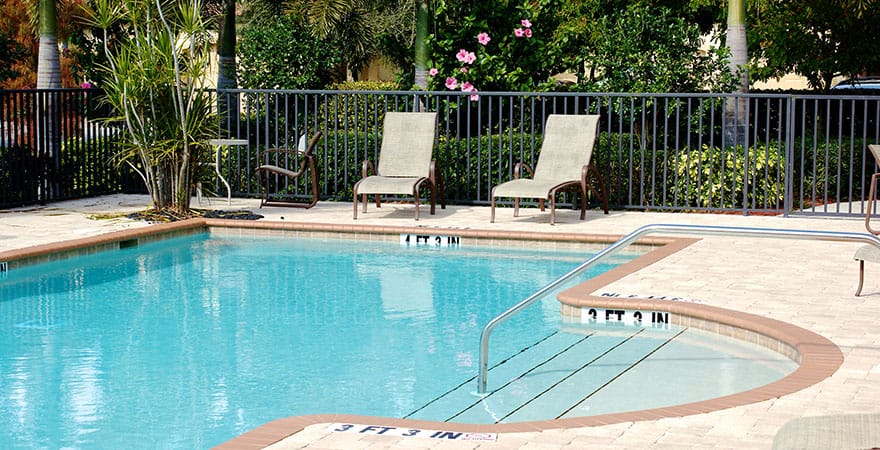 When it comes to choosing the most appropriate pool shape for your backyard, you are faced with several options and questions. Of course, you would want to dive in now and then but it should have that aesthetic appeal as well. Therefore, let's take a look at some pool shapes that will help you decide the best option for your small backyard. After this, get a pool house builder on board to turn this project into reality.
Semi-Circle Pool
If you have a small backyard, you would want something big enough for you and your loved ones to enjoy as well. At the same time, you will need to leave some space for other activities too such as entertaining or lounging. With that said, you can consider a semi-circle pool shape, which is not going to be big enough to swim laps but will sufficiently satisfy the purpose. Plus, you can also build it near the plot's boundary so that you have plenty of room for socializing.
Raised Pool
The next option you can consider is an elevated/raised pool. You might have thought it is something impossible in the case of small backyards but it is fairly common nowadays. An elevated pool with a raised patio or deck offers a smart look. As a result, the surrounding area of the pool will appear 'sunken' which will provide the best views of your backyard. Plus, these sunken areas could also be utilized for other purposes such as seating spaces.
Organic Pool
The organic pool shape might work for your small backyard but you will need to be a bit smart with it. With an organic pool shape, you can copy and create the shape of exotic lagoons around the world combined with a waterfall and a shallow area with a parasol. On the other hand, if you are left with a bit of surrounding area, you can plant some trees and shrubs to turn it into a haven on earth. This is as close to creating a natural pool as it gets. While other shapes may have their pros and cons, this one perhaps might be the most flexible, allowing both practicality and appeal.
Rectangular Pool
One of the best pool shapes for a small backyard is rectangular. This is the simplest design you could opt for your pool but without relatively less natural additions. A rectangular pool is supposed to be a bit long and narrow but if built in a small backyard, you will have to think about what needs to go where, carefully. In simple words, you will need to be thorough and smart with how you utilize the space available.
Angled Pool
Sometimes, depending on the shape and size of your backyard, you might want to give your pool a slight bend or angle. This could be done to incorporate the existing structures or trees. The thing with an angled pool is that it makes even a small pool look spacious and bigger. Plus, if you have the budget or space available, you can also opt for a hot tub that will be a fabulous feature to install.
Circular Pool
A circular pool always tends to make a statement. Perhaps the best thing about a circular pool is that you are left with plenty of options in terms of plants and seating. However, in this case, you won't be able to swim around but will be sufficient enough for your friends and family members to jump in and chat. In addition to that, this pool should not be heavy on your pocket and will leave a focal point in your backyard.
Curved Pool
If you desire tranquility, the curved pool shape ticks all the boxes. A unique addition to your backyard but quite the one that provokes attention. This type of pool looks best with a tiled wall on one side, while the other could be used for seating, relaxing, entertaining, or socializing. However, since this pool shape mostly includes a lot of tiles, you will need to keep up with the maintenance as well.
Final Word
Choosing the best pool shape for your small backyard requires considering a lot of factors. However, as a general rule of thumb, you should go for the shape that matches your needs and preferences and is practical. You should also take into consideration the recommendations of pool house builders long Island. Plus, it should also be easy to maintain to keep it looking brand new for years to come.