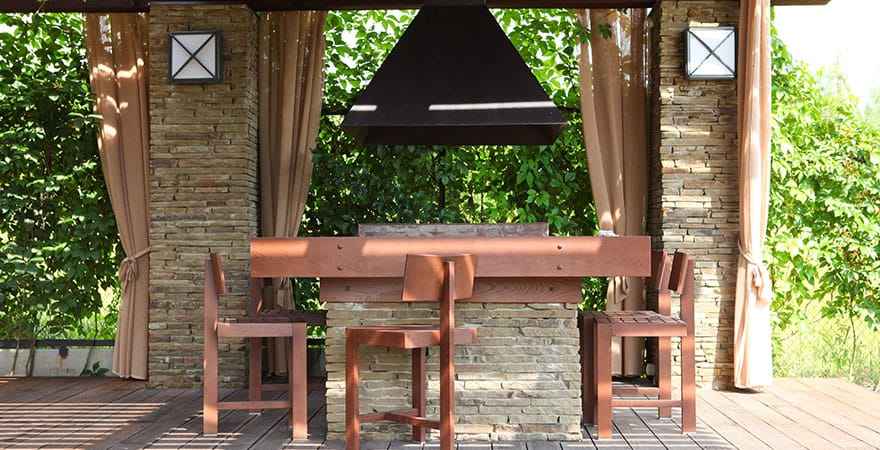 If you want to provide your house with a great and fresh look, then making some changes to your backyard can help you do that easily. However, you do not have to spend a lot of money on projects like these. Just adding a few things like a comfortable seating option, patio, and some furniture is all you need to complete your DIY backyard makeover project. If you want to spend money a bit, you can also hire patio builders for backyard makeover.
In this blog, we have provided some of the best backyard makeover ideas which you can follow to make your backyard look fresh and clean.
A Small Patio Can Do Wonders
If you are unsure about the starting point of this DIY project, you can start by adding a small patio or deck to your backyard. This is not only a cosmetic addition to your house, it can actually increase the resale value of your property, and can make it more usable.
You can either make a DIY concrete patio, or can build a deck by using wood. You can choose your own preferred materials and size of the deck or patio in this type of project.
Use A Rug
If you do not want to spend a lot of money or time on a big patio or deck addition, you can also use a rug. This applies if you already have a deck or patio available in your backyard.
Adding a colorful rug is way cheaper and I am saving as compared to painting or staining your outdoor patio or deck to give them a unique look and feel.
This type of addition is great for people who quickly want to transform the looks of the outside of the house without spending much money, or dedicating a lot of time on a DIY project.
Make A Path With Stones
You can make a DIY stone path even if you do not have a garden in your house. You can simply use this path to connect your main gate to things like in-ground swimming pool and backyard patio. This project can also be enhanced by using rocks that glow in the dark, or adding other decorations around the stone but when making it.
There are lots of different inexpensive and effective DIY suitable materials which you can choose in this project.
Use Your Tree To Make A Bench
If you have one or more trees in your backyard, you can easily use them to make a bench. This is an easy DIY project, and you can do this with a minimum amount of materials as well. After the bench has been made and the tree has been surrounded, you can then use your favorite paint to color the bench as you wish. You can even add more wood to make it into a relaxing place, and add some pillows to make it perfect for spending some free time outside your house.
Make A Pergola
A pergola is one of the best things you can make in your backyard to add the much-needed shade to anything. In order to make a pergola in your backyard, all you need is the right materials and some space. You can also add curtains in the mix to provide more shade and privacy when you and your family are spending some quality time in the backyard.
However, keep in mind that making a DIY pergola will take you a bit longer as compared to other DIY backyard remodeling projects. So, make sure that you have enough free time at your hands to start and complete the whole project in one go.
Add Some Vertical Space
If you are looking to add more plants to your garden, but are limited on space, you can add lots of vertical space in your garden without spending much money. For this purpose, you can invest in some wall planters to hang some pots vertically.
You can also use this technique to free up some horizontal space for your upcoming deck or patio.
These were some of the best backyard remodeling ideas which you can easily do without spending much money or allocating a lot of time for the project. These projects can also increase the resale value of your house especially if they are done by masonry contractors Long Island. lagrass