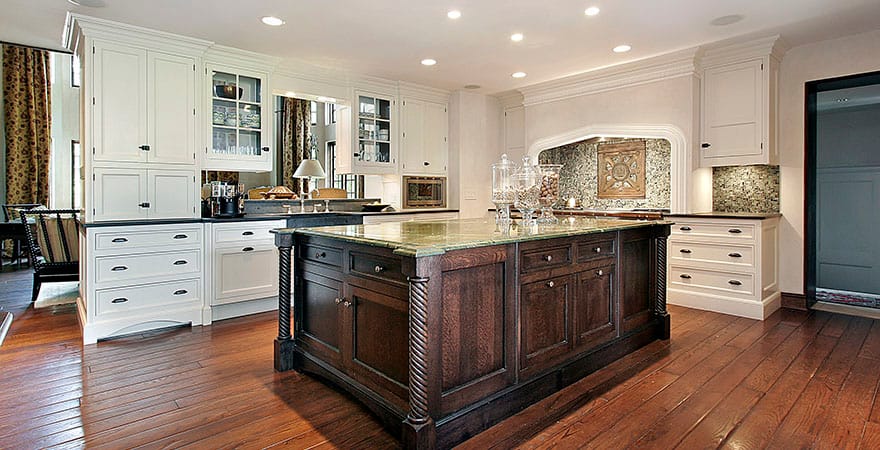 People often do not pay enough attention to their granite or quartz countertops. They assume installing them once means they will last forever. However, there are various signs you should notice on the countertops that will tell you when to replace your them.
New countertops will not only change the look of your kitchen but will also add more value to it. Hence it is important to understand when to change them or else their functionality will reduce over time.
Signs that it is time for countertop replacement
How can you figure out when to replace your old countertops with your new one? That is what we are here for. We have gathered some points to help you figure out when can you change your kitchen countertops.
Your countertops are eroding
If you notice cracks appearing on your countertops, it means they have lived their life. Cracks on countertop indicate that it is time for you to replace them with new countertops. They erode so much that you can see the material underneath them. This means that they cannot be repaired at this point.  Replacing them is the only option you have. You can replace your old countertops with a more durable material such as granite. When properly sealed and looked after, granite countertops survive a lifetime and will never run out of style.
Your countertops have stains that you cannot get rid off
If your countertops have become worn out to the point certain stain marks have started to appear on them that you cannot get rid of, it is time to replace them. Such stain marks indicate that the countertops are too old for repair. This can make your entire kitchen look old and unclean. The only way you can fix that is by replacing your countertops.
You can choose a material that is more resistant to such stains. However, make sure you only replace them once you are absolutely sure that the stains cannot be removed. Or else you will be investing in the new countertops for no reason.
The same goes for any structural damage that may have happened to your old kitchen countertops. Structural damages are hard to repair. However, if they can be repaired, you should avoid getting new countertops. But most of the time you will need to replace the countertops completely.
Your kitchen looks old and outdated
If the overall look of your kitchen has started to look old and outdated, maybe it is time to upgrade your kitchen. However, upgrading the entire kitchen will cost you a lot. What you can do instead is just replace your kitchen countertops. Replacing your kitchen countertops can change the overall look of your kitchen and make it look new. It is not only extremely easy to replace your old countertops, but it is also affordable. Choose a countertop material that is durable and stays in style for long. One such material is granite. Granite countertops look comparatively trendy even when they are worn out. This makes them one of the best materials for kitchen countertops.
Conclusion
Kitchen countertops do not only serve a functional purpose, but also adds a visual appeal to your entire kitchen. The way your kitchen looks and feels highly depends on the condition of your countertops. Therefore, it is important that you maintain the countertops and when needed, replace them with a better countertop material.
Kitchen countertops come in a variety of materials that you can choose from depending on your needs and preferences. Just make sure that you are calling a granite company Durham NC for the right reasons and not just because you are bored of how they look.