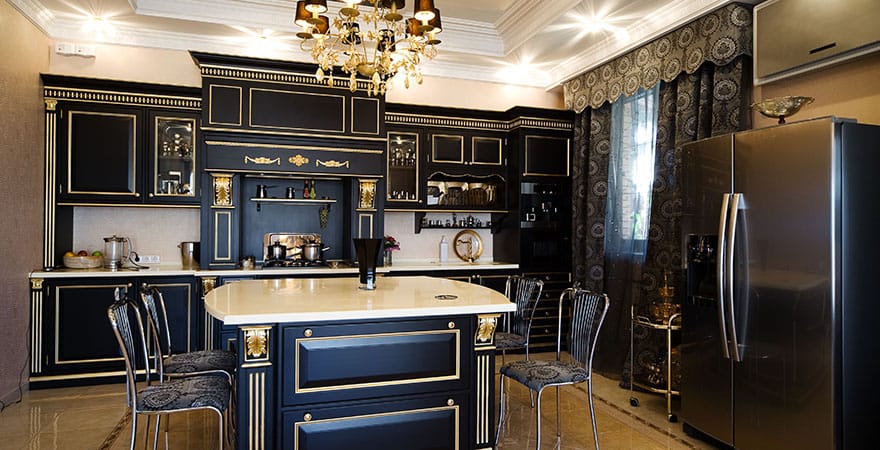 Your kitchen remodeling experience can get very intimidating, once you start considering all that there is to be done to make your kitchen look like you dream kitchen, which you could proudly show to your visitors or spend hours in, feeling like a MasterChef. From cabinet replacement to replacing countertops, the entire kitchen renovation idea sounds pretty daunting. It's more than just selecting a color scheme and buying marble, laminate, granite or quartz countertops and cabinets alike. Here are a few things to consider when you are remodeling your kitchen.
Is Your Kitchen Big Enough To Meet Your Standards
In a small apartment or house, you might have noticed that people don't install a quartz countertop island. The reason is simple; the kitchen is simply not big enough. In small kitchens an island will not only look odd, but you will be left with very little space to walk. You won't feel the freedom in your own kitchen. If you have at least 36 inches of clearance in your kitchen, ideally 42 inches, only then consider installing an island. In smaller kitchens an open space would look just as elegant and making your small kitchen look spacious would be the best preference.
Think the Layout of Your Kitchen Thoroughly
If you think that you can simply remove a wall off your kitchen just because you want to extend your kitchen or open it up to other rooms then you couldn't be more wrong. Certain walls are load bearing than structural. You just don't know which is which, a little logic might do but definitely consider consulting an architect first. Likewise, many people also assume that appliances like refrigerator, stove, sink etc. ought to stay where they were originally. That's not entirely true. You would need to put in a little extra cash for welding, venting, and plumbing but at the end of the day they are for sure 100% movable to other locations. You should also replace your countertop keeping in account your kitchen design and layout. Granite countertop is the most popular option in this regard.
Be Careful As To Where You Want the Ventilation Placed
Many house plans are not designed in a way that they require a hood top in the kitchen but many professionals recommend one for effective ventilation. When you are relocating your stove make sure you are relocating the hood above considering the ventilation of your kitchen. The duct runs should short and straight for desirable efficiency.
Consider Installing Your Cabinets Wisely
Now you might have decided up on the color scheme for your cabinets that will reflect a chic classic look, but before ordering or buying them, make sure to analyze carefully as to where you are going to install them. You don't want to install your cabinets on a sloping floor or leaning walls. It will not only look odd but also cause a lot of inconvenience if you have ordered your cabinets beforehand. Thus get an experts' advice on this firsthand and order you cabinets accordingly and install them at an appropriate location.
Choose the Appliances of Your House According To Your Lifestyle
If you have a large family with kids, you'd much rather spend some cash on a quality dishwasher rather than a chef grade 6-burner stove. Assess your needs wisely and go out to shop accordingly. Your lifestyle must reflect the appliances you are going to need. You might find yourself overwhelmed seeing certain appliances that you know will look absolutely striking in your kitchen but deep down you know you wouldn't need them. Spare yourself the trouble and invest in your requirements first than desires.
Shelves
You might have seen shelves in catalogues that makes a kitchen appear neater. In reality however, shelves must only be considered for décor purposes. You already have cabinets to store your appliances and utensils etc.  A lot of items on the shelves will only make your kitchen look cluttered.
The Lighting Must Be Bright
A place where focus and concentration must be at its peak, darkness can be pretty frustrating. No one would want to chop up vegetables in a dimly lit kitchen that just increases the risk of losing your fingers. A bright kitchen makes your kitchen look lively and animated. So place the lighting wisely. Normally, they are placed above quartz countertops where bright lighting would make sense.
That's it. Remember to remodel your kitchen with the help of reliable kitchen remodeling and countertop replacement NC contractors.